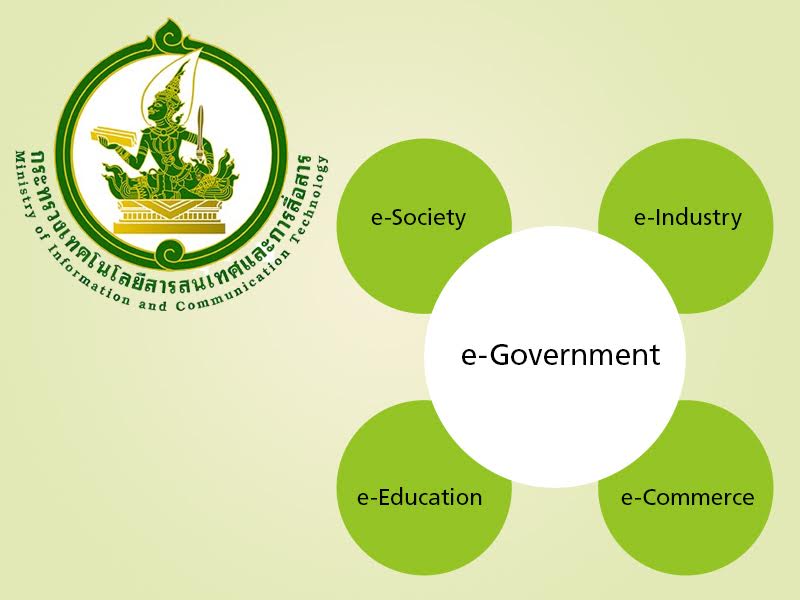 MICT 26: The Inter-Ministerial and Agency Operations Centers E-Government Project
Country: Thailand
Client: Ministry of Information and Communications Technology (MICT)
In 2005, the Prime Minister of Thailand announced that he wanted domestic government institutions to have "Operations Centers" which would serve as e-links, providing timely and relevant electronic data and information for decision making to the Prime Minister's office. As a progressive e-government vision, suppliers, service providers, and the financing community greeted the idea enthusiastically and quickly began planning and implementing a range of e-government projects. In a short amount of time, the disconnected energy led to investment duplication, information silos, a shortage of qualified staff, and an inability for critical government organizations to interconnect.
The Thai Ministry of Information and Communications Technology (MICT) recognized that the e-government initiative had stalled and wanted to migrate the Prime Minister's vision into a successful result. However, with limited resources, they needed assistance in determining how best to achieve the goal, and especially when organizational discord was creating difficulties in even getting counterparts to attend an e-government planning meeting.
When we landed in Bangkok, we started by visiting all stakeholders. Our independent and neutral role allowed us to assess all Ministries (including MICT's) ICT / institutional capabilities as well as the organizational and technical relationships between the Prime Minister's office and the top 26 Ministries and Government Agencies that reported to him. It became clear that MCIT could play a coordinating and catalytic role for the Operations Center project, and that needed human and operational resources were available from other Ministries, if specialized expertise could be added to "glue" the decentralized e-teams together. The question was how to begin.
We knew that by being an "outsider", we were in a unique position to start fresh, which involved neutralizing frustrations among all stakeholders. Once we addressed each team's concerns, we built trust with all commercial, government and related industry stakeholders, while ensuring we captured each organization's unique goals and objectives in working with the government and the PM's office. With each step, we communicated with all stakeholders, ensuring that everybody was informed as progress continued, and that opinions, ideas and insights were equally shared. As we continued our work, assessing, planning, negotiating, and ultimately, working with each team, we inventoried the assets they could contribute, so that we could leverage all resources into an effective e-government network implementation.
Our team worked closely with MICT and the related project stakeholders to develop the detailed project scope (terms of reference) that would assess each potential Operations Centers' responsibilities, goals, institutional support capabilities (human resources, management strengths/weaknesses, supplier interfaces, etc.), technology assets (hardware, software, databases, network infrastructures (external/internal), security levels, etc.), operational resources and gaps, budget, scheduling concerns, and related parameters. We also developed the project budget, RFP hiring parameters, and project deliverables. In addition to defining the project, we assisted the MICT in securing $400,000 of US Government funding for the e-government pilot project.
The MICT 26 E-Government Project enabled the network of 26 Inter-Ministerial Operations Centers to communicate in new, secure and multi-dimensional pathways, while also integrating and adding value to cross-governmental information which could then be shared directly and electronically with the Prime Minister's office – on a moment's notice. The project also opened funded opportunities for ICT sector suppliers and service providers, in addition to bringing important professional development and technology transfer benefits to Thailand.
Ultimately, the MICT 26 E-Government Project provided timely and relevant electronic data and information exchange between the 27 vital Operations Centers (the top 20 Ministries, 6 Agencies and the Prime Minister's office), and set a healthy foundation for the broader and more extensive e-government projects that have followed, and has rendered quantifiable financial, economic and social development benefits for the Kingdom and its citizens.
ขอบคุณสำหรับโอกาสที่ได้ร่วมงานกับกระทรวงเทคโนโลยีสารสนเทศและการสื่อสารแห่งประเทศไทย (MICT) ในโครงการที่สำคัญและในช่วงเวลาที่เหมาะสม