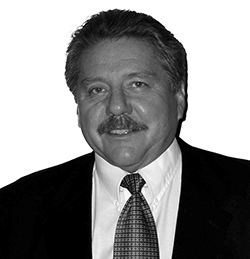 Gary Bardsley
Senior Consulting Associate
Technical
Dr. Bardsley is a Senior Consulting Associate with Global Resources, and brings more than thirty years of technology leadership experience in information and communications technology to our firm, partners and clients. Dr. Bardsley is a seasoned senior Chief Information Officer with multidisciplinary experience as an executive in Information Technology, Telecommunications, Strategic Planning, Economic Analysis, Education, and Research; he serves as a senior planner and advisor to Boards, governments, enterprises, and academia regarding complex, high technology projects. This cross-discipline expertise provides our clients innovative and comprehensive insights that result in improved high technology operational systems, and Dr. Bardsley's aptitude for creating alternative scenarios, including testing and verifying mechanisms that provide confidence in delivering performance and economic metrics, has provided on-time and successful high technology / ICT outcomes to numerous project and organizational challenges.
For over twenty years, Dr. Bardsley has worked with Global Resources in consulting and executive education projects with international public and private sector clients. Most recently, Gary assessed national data center planning needs for Egypt, and supported technical data center planning for our business planning engagement with Summit Technology Solution (STS), Cairo.
On behalf of the US Trade and Development Agency, he has provided in-country telecommunications engineering and information technology analysis and planning expertise to the Ministry of Information and Communications Technology in Thailand, and technical counsel and due diligence support for a rural broadband access project for Lebanon and a South African spectrum management planning activity. Dr. Bardsley also served as our lead technical expert on behalf of Save the Children's e-education pilot project initiative in Meherpur, Bangladesh. In this extended client activity, he assessed on-site operations (including voice and data networking access, power systems, computer labs, and technical and administrative support at four rural sites); interviewed key stakeholders; provided advice and counsel regarding the project's status and future potential (sustainability, scaling, and costs / benefit analyses); and co-developed the pilot project's comprehensive business plan.
Dr. Bardsley has conducted in-depth infrastructure and operational analyses for companies and countries (Korea, Thailand, and India) that have served as critical baselines for subsequent work on meeting their specific goals. In addition to working in-country in Japan and Korea, Dr. Bardsley has directed major projects with Canada, China, India, Russia and Venezuela, among others.
Dr. Bardsley has positively impacted the understanding and applications of information technology and telecommunications technology to business and government leaders and decision makers in developed, transitioning and developing nations, and has developed interactive, multidisciplinary planning models that allow executives to experience "first hand" the impacts of decisions involving telecommunications technology, pricing, and policies. One model, Telephonia©, has been used by international executives and graduate students, and licensed to numerous global organizations. Dr. Bardsley has been repeatedly recognized for his ability to express highly complex technologies and economic/political concepts in succinct terms that are relevant to investment bankers, heads of state, or diverse staffs of ministerial supervisors.
While working for the former Bell System, Dr. Bardsley held executive positions with the operating companies and Bell Laboratories that included responsibilities for leading hundreds of employees and managing annual budgets of several billion dollars. Dr. Bardsley has directed the planning, construction, and operation of multiple 300,000+ square foot data centers, the design and operations of national and international telecommunications networks, and developed econometric models that allowed for the investigation and design of pricing and cost models in fast-changing markets. His breadth of knowledge and experience also led to serving as the director of the largest technology and management training group at the Bell Labs Technical Training Center in Chicago.
Dr. Bardsley served for 15 years as the Associate Director of the Interdisciplinary Telecommunications Program at the University of Colorado / Boulder (the largest graduate telecommunications program in the world). In that role, Dr. Bardsley led a population of more than 600 international graduate students and faculty as they studied the interrelated fields of telecommunications engineering, policy, law, and business management. As a faculty member at the University of Colorado, he worked with students as well as public and private sector executives from Asia, South America, Eastern Europe, Africa and the US, while simultaneously serving as principal investigator on leading-edge research projects. Following his University of Colorado work, Dr. Bardsley served as the Chief Information Officer (CIO) at Aims College, one of the largest independent community colleges in Colorado.
Dr. Bardsley now serves as Chair of the Technology Advisory Council, Chair of the Colorado Higher Education Computing Organization, as a founding member of the Colorado Coalition for the Advancement of Telemedicine, and as a member of the Industry Liaison Advisory Board for the University of Colorado's School of Medicine. He teaches courses in Engineering Economics and Ethics for Professional Engineers, and graduate courses ranging from Digital Networks and Economics and Strategic Planning, to Competitive Intelligence. He is also involved in the development of Technology Master Plans, and wireless and fiber optic network upgrades, with a current special emphasis in dealing with network and computer security, disaster preparedness, and business continuity designs and plans.
Dr. Bardsley holds a bachelor's degree in Electrical Engineering, a Master's Degree in Interdisciplinary Telecommunications (a combination of engineering, policy, business, and law), and a Ph.D. in Educational Technology with an emphasis on the application of technology to learning and the distance delivery of education.
Gary's Thoughts:
"I cherish every opportunity to work with Global Resources and our clients as we always works towards accomplishing a distinctive result, whether the project scope focuses upon a single company, a large multi-national, or even an entire country. No matter the project scope or client size, we focus on total immersion into the project and in achieving a precisely targeted and pertinent outcome - making a difference is of utmost importance. To me, the fundamental difference in working as part of Global Resources is its enlightened leadership, its focus on bringing together top notch personnel, and the firm's intensive emphasis on research, analysis, complete client engagement and shared dialogues - and ultimately, producing, top quality, action-oriented deliverables that move an ICT agenda forward."
"I have enjoyed travel and work abroad from my first visit to Japan as a Research Fellow of the Japan Advancement Organization. This multi-month work assignment with Japan's top engineers and scientists shed important insights into the importance of culture, and how culture molds peoples' behaviors when engaged in a shared work task. All of my work with Global Resources' team members has shown that first and foremost, we pay attention to understanding and performing our work in concert with the culture of an organization – and its country. Our mission is always to exceed expectations and provide a product that is clear, feasible, and well supported with the findings of their work."
"A client project with Global Resources in Thailand provides a clear example. Even though the scope of the project involved the Prime Minister and all the subordinate Thai Ministries, the work effort was smoothly accomplished. GR's project managers assembled the right team of consultants, identified necessary Thai and U.S. resources, and the project proceeded with continuous analysis and thoughtful consideration on constantly changing / appropriate next steps. When our in-country work identified new organizational challenges, we refocused our project work to incorporate these important planning factors. All of this was done in such a professional and engaging manner that the impacted Ministries were easily able to support the requests for revised information. When the project completed, I had gained a comprehensive understanding of Thailand's technology, goals, and aspirations, and also solid friendships with the many wonderful Thai people. Truly the land of smiles."
"The obvious respect that is shown by those who have been fortunate enough to have been touched by a Global Resources work program is reason enough to continue to work into my third decade as part of this unique global consulting firm. It is very gratifying that my knowledge and experiences are useful to others – and I have also found my client engagements to be a special chance to work with challenges and people who always become an important part of my expanding understanding of our one world."