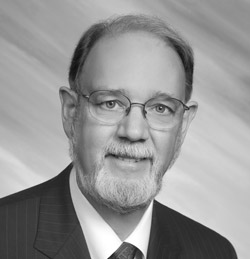 Peter Craig
GR Advisory Board Member
In addition to serving on Global Resources' Advisory Board, Peter Craig is an Executive & CEO, and Corporate Director and Entrepreneur. He brings extensive operating experience in the electronics and software industry, primarily in IT infrastructure and enterprise applications products and services.
Mr. Craig has held senior operating executive positions for products and services in marketing, product management, sales, manufacturing operations, and product development, as well as serving in general manager assignments with P/L responsibility. Additionally, Mr. Craig has extensive international experience working with joint ventures and distribution channels in over 40 countries. From 1986 to 1989, Mr. Craig served as CEO of Promod, Inc., a supplier of software development tools. From 1989 to 1999, Mr. Craig was a Director and Vice Chairman of Rainbow Technologies, Inc. (NASDAQ:RNBO), a supplier of information security products. From 1993 to 1997, and again from 2005 to 2007, Mr. Craig served on the National Board of Directors of the American Electronics Association.
As a board member, Mr. Craig has served on Audit, Governance, Compensation and Stock Option Committees. His board experiences encompass a wide variety of business dynamics and challenges including start-ups, successful public companies, turnarounds, and special situations. In addition to providing extensive advice and counsel to numerous entrepreneurs and executives, Mr. Craig is a frequent speaker on topics of corporate governance and the role of directors in building strategic shareholder value.
In 1995, in recognition of his work with emerging startup companies, The Forum for Corporate Directors named Mr. Craig 'Director of the Year'.
Mr. Craig has completed the UCI and Wharton/Spencer Stuart directors training programs and has been certified by Institutional Shareholder Services as a qualified independent director. Mr. Craig holds a B.S. in Electrical Engineering from Case Institute of Technology (now Case Western Reserve University), an M.S. in Electrical Engineering from the University of Minnesota and has completed post graduate business education programs at the Stanford University Graduate School of Business.
In 2007, Mr. Craig was elected to the Board of Trustees for the South Coast Medical Center Foundation in Laguna Beach, California.
Board of Directors & Executive Advisory Boards Served
| | |
| --- | --- |
| American Electronics Association | DevelopMentor, Inc. |
| Forum for Corporate Directors | Global Resources, Inc. |
| Mykotronx, Inc. | NetCaliph, Inc. |
| Printronix Latino Americana SA de CV | Promod, Inc. |
| QuickStart Technologies, Inc | Rainbow Technologies, Inc. |
| Somerset Automation, Inc. | Valicore Technologies, Inc. |